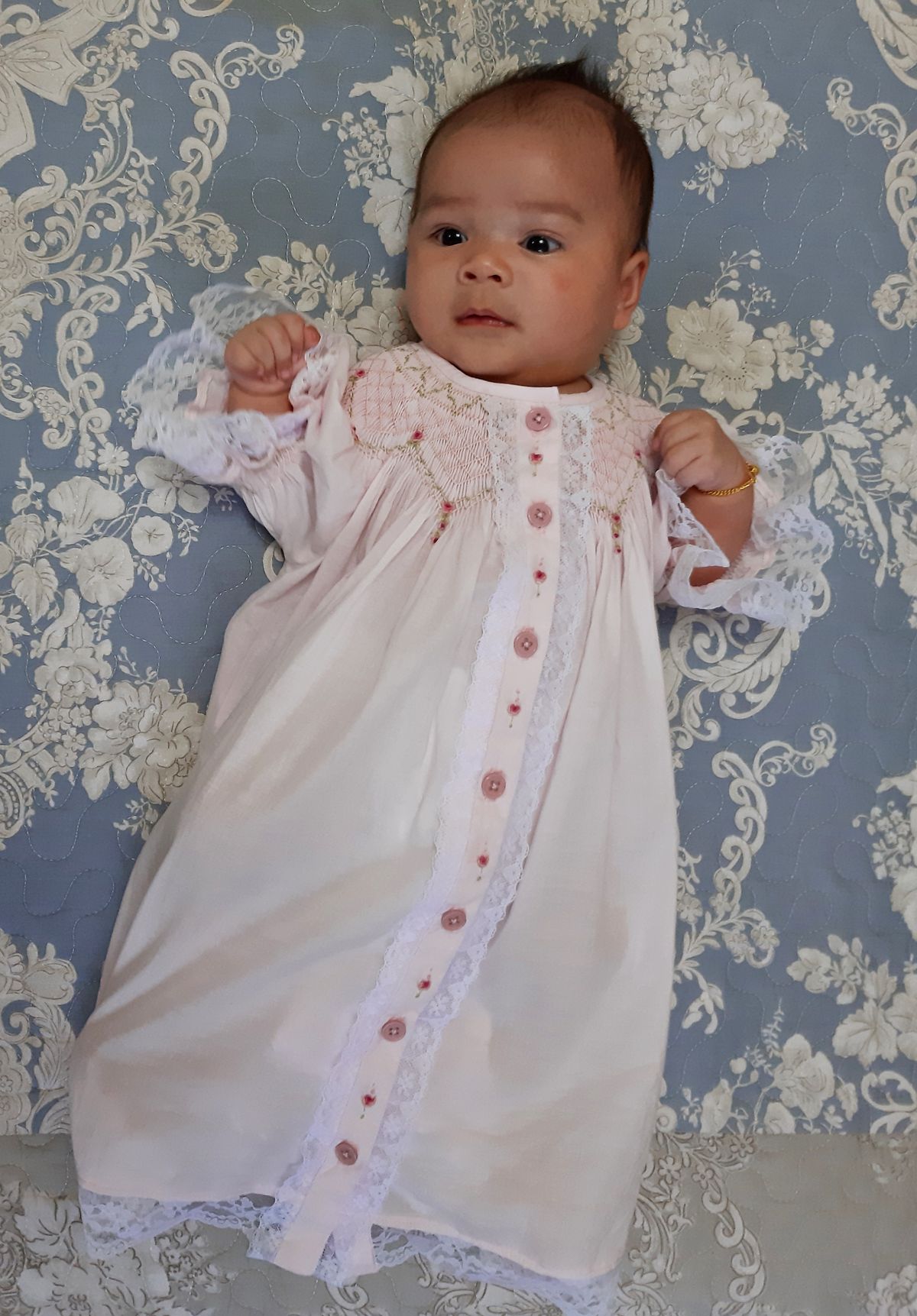 Smocking is a beautiful traditional needlework art that requires pleating and embroidery which would result in a stunning heirloom pieces that could be passed down generation after generation. Smocking consists of the gathering of a wide width of material through pleating and using embroidery technique, it will generate the elastic effect. Smocking was commonly used around the sleeve cuffs, bodices, shoulders, and necklines. A variety of stitches can be used for the smocked area such as cable stitch, feather stitch, outline stitch, stem stitch, wave stitch, trellis stitch, vandyke stitch, bullion stitch and honeycomb stitch.
Traditionally, pleating of the fabric was done with marking dots in a grid pattern on the wrong side of the fabric. Temporary running stitches by rows run through the fabric and anchored after gathering the fabric into tight pleats. However, nowadays these tedious pleating of the fabric can be simplified and time saved by using smocking pleaters such as Amanda Jane Pleater, Read Pleater and Princess Pleater.
Embroideries needleworks are also used to enhanced the overall looks of these incredible smocking pieces. Just as a painter uses a brush and paint, an embroiderer uses a needle and thread.
Examples of smocking needleworks can be used to make incredible garments such as:
Baby christening gown

Baju Smocking Aqiqah

Girls Smocking dresses

Girls Smocking frocks

Girls Smocking blouses

Baby boy smocking shirt

Baby girl smocking outfit

Smocking maternity blouses

Smocking maternity dresses

Smocking bishop dresses
Smocking garments have been around for centuries originated from Europe. However, due to the tedious and time consuming efforts needed to produce a beautiful piece of garment, this smocking needlework has been on the decline especially amongst the young generation. It is Little Leilani aspiration to introduce and encourage the youngsters to pick up the smocking needlework art and revive it to it's glory